There are times when you just have to take the plunge, because life is simply too short. Forget the risks, ignore the stacked odds against satisfaction and success, and disregard every sensible reason to leave this nagging, deep-lying desire alone. Some plump for the mundane, such as running a marathon or climbing Everest, while others quit their job to start a business or move abroad. Then, there are a tragic select few who chose to write about their hero.
First-Love Footballers
The first cut is the deepest. In his book 'Changing Relationships', Dr Malcolm Byrnin says that the secret to happiness in a relationship is to 'skip the first relationship'. In an ideal world, you would miss out childhood and youth altogether and wake up in your second relationship, because the first love ruins it for all the others, yet you must never, under any circumstances, go back.
When it comes to our footballing heroes, this issue is magnified by the unique nature of the emotional attachment, in that puberty isn't a pre-requisite. It is the one phase of life that isn't age-sensitive; more intense than a teenage crush and resistant to being rescued by the more pragmatic approach of adulthood. As such, it is the most enduring of admirations. All the other childhood fixations - a security blanket, a particular favourite toy or a cartoon movie - all fizzle out, only to be revisited in later life on nostalgic whims, promptly discarded when inevitably the novelty wears thin.
The attachment that makes you compelled to wear a daft plaster on your nose during your U11s Sunday league matches is the same that makes you forget it's your anniversary when you proclaim to your partner in the moment your hero re-signs for Liverpool that it's 'The Greatest Day of My Life'.
On January 27, 2006 I got the call.
That phrase makes it sound like I'd just been called up to my first senior England squad, and I imagine the level of euphoria is very similar. Robbie Fowler's return felt like one of those joyous days when you realise there are certain elements of supporting a football team that are far more important than the football itself.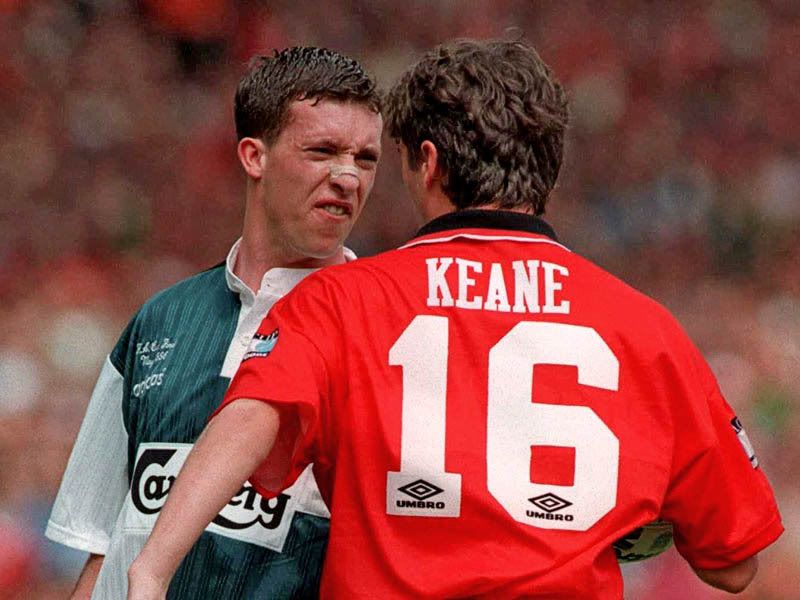 To many on the outside, Fowler was merely a remarkably gifted striker, often referred to as the most natural finisher of his generation. But to some of us, he was untouchable. He was, and still is, 'God', and no one, not even John Barnes or Ian Rush before nor Steven Gerrard or Luis Suarez since, is quite capable of filling that void. While the pain of cup exits or missed opportunities in the title race can be soothed by the release of the next fixture list or the arrival of a new signing, once your first hero has been moved on, a fan's journey moves into a new era. For many of us, it was Liverpool AD between December 2001 and that magnificently unexpected day in January 2006.
This was because, for the boys living and breathing football 24/7, nose-plasters and all, he was the local lad who banged the goals in every week, living the dream we all dreamt in the playground. Meanwhile, to those who had stood on the Kop for decades prior, Fowler was a throwback to the original goal machines, drawing comparisons with the likes of Rush and Jimmy Greaves. He wasn't an athlete-cum-footballer, or a player moulded and manufactured out of sports science, but a pure, authentic marksman. An instinctive game defined by an acute sense of space in and around the box, and an unparalleled ability to find the one square-inch of net that a 'keeper couldn't reach, from any distance or angle, with any part of his body. When the ball fell to Fowler in the box, even if it was his only chance in 90 minutes, you always got that split-second rush of blood in anticipation of the net bulging, which for most other players, would take a gaping goal and an already sprawled 'keeper.
Furthermore, after each and every one of his 259 career goals, there was never a pout or posture, no 'ssshhh' or cupped ear to the public. Only outstretched arms and a beaming smile accompanied every goal. The simplicity and normality with which he approached and played the game, made him someone that fans of any age could relate to.
But perhaps most pertinently of all, to many thousands of Liverpool's support, Fowler was the shining light that helped guide the club as it sought to emerge from its darkest hour. Four years on from Hillsborough, both club and city were still coming to terms with the impacts of the disaster and the ongoing injustices and cover-ups that, as it would turn out, were still only being concocted. The on-pitch fortunes of Liverpool FC were offering little solace, as football had so often done for the masses in previous decades. Kenny Dalglish had stepped down, a golden era of players retired around him, and Graeme Souness hadn't managed to pull off the impossible job. Liverpool were distinctly mediocre in mid-table, out of the European competitions that defined us in the previous three decades, and playing in front of dwindling crowds while Manchester United began building their dynasty.
Dwindling crowds - like the 12,541 who turned up at Anfield to watch Liverpool play Fulham in the second leg of a League Cup second round tie in 1993. Two weeks earlier, Fowler had made his first-team debut, scored once and had a hand in two others as the Reds won 3-1 at Craven Cottage. On this occasion, he scored five; three with the left, one with the right, and one thumping diving header. He was just 18 years of age. It's impossible to imagine the extent of the country's reaction if an English teenager repeated the trick in 2013 and beyond, and we'll probably never know. This wouldn't be the last time Robbie proved to be one-of-a-kind.
English football would soon enter a period of seismic shift from the classic to the commercial, with Fowler bridging the old and new eras. Emphasising the early impacts of the newly formed Premier League, he was the first teenage British footballer to sign a £1millon contract and he became a global superstar overnight. He'd soon be playing in front of crowds in excess of 40,000 at Anfield every other week, regardless of the opposition. Yet as the years went by, even when a 'broken toe' became a 'fractured metatarsal,' Fowler never changed.
A year after the fiver past poor Jim Stannard, the Toxteth Terror produced another unprecedented moment. Somewhere, there is a family of people who, on August 28, 1994 switched over for the weather forecast or to catch an over of Dominic Cork during England's one-day international with South Africa, and missed the lot. Fowler scored a hat-trick in four minutes and 33 seconds, ghosting through the meanest, most experienced defence in the country, and plonking the ball three times past Arsenal and England's No.1, David Seaman.
Others would've succumbed to the adrenaline, or the law of averages, when presented with a half-chance less than a minute after opening the scoring during the first home game of the season. But Fowler - bang, through Dixon's legs, bang, bang - three times he found the handkerchief-sized patch of net just inside the far post, something he could do like no other of his generation.
There were countless other days that made us delighted he was ours. Only Robbie could've dominated the headlines the day after Eric Cantona made his comeback from a nine-month ban, when he scored two stunning goals past Peter Schmeichel in 1995. Only Roger Hunt had reached 100 goals faster for the club, when he put four past Middlesborough a year later, in his 165th senior game.
In 2001, he was skipper and man-of-the-match after scoring a spectacular dipping volley and clipping in a cheeky shootout spot-kick in the League Cup final win over Birmingham City. He would then lead the Reds to an unprecedented cup treble, scoring as a substitute in the 5-4 Uefa Cup final win over Alaves. On the final day of an incredible season, he struck perhaps the two most important goals in his career, in a 4-0 win away at Charlton, which sent the Reds back to the European Cup for the first time for over a decade.
More Than Just Goals
However, for all the goal-scoring exploits, it was always what Fowler represented beyond the statistical that mattered most to Liverpool supporters. He once even tried to sacrifice a scoring chance, in a vital top-of-the-table clash against his favourite bunnies, Arsenal, at Highbury. His attempts to convince Gerald Ashby to reverse his penalty decision when he hurdled Seaman's lunge and fell to his knees are unlikely to be seen again in a match of that magnitude, if at all.
But the gesture which best sums up his relationship with Liverpool supporters, came during a Cup Winners' Cup tie against the Norwegians of Brann Bergen in 1997. I'm not talking about his volley in the first leg, which followed a ridiculous piece of skill that has to be YouTubed to be believed. In the second leg, he struck with typical aplomb at the Kop end in the second half, his second of the match, and revealed a t-shirt pledging support for Liverpool's sacked dockers that would earn him a UEFA fine, but also the admiration of the city, even the reluctant blue half.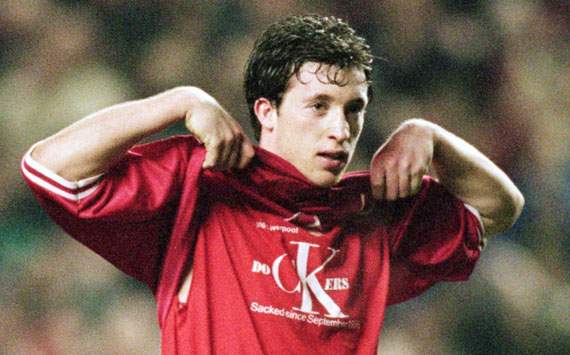 This is what separates true cult heroes like Fowler from the rest. Fans could watch him from the stands or on TV, and no matter how much money he earned - the famous property portfolio, the cars and the worldwide fame - when he took to the pitch, he simply seemed like the one of us that got lucky, and nothing more. That's why, for a few brief moments in 2006, when a bleary-eyed Robbie stumbled through a press conference, referring to 'Mr Parry' and 'Mr Benitez,' we could watch a footballer talking about a 'dream come true' and genuinely believe every word.
Breathless
For all of the above, we all have our own distinctive favourite moments.
My first visit to Anfield, in April 1997, would effectively end Liverpool's hopes of a title challenge, after goals from Coventry City's Noel Whelan and Dion Dublin inflicted a painful late defeat. But I had the most thrilling experience.
High in the Kop, when Robbie latched onto John Barnes' lofted pass, we all rose in unison. As he unleashed a right-footed volley towards the roof of the net, I strained to see over the crowds and could see the ball dipping under the bar, yet had to react on a split-second delay, requiring the roar of those around me to confirm it hit the net. I remember turning to my Dad and trying to bellow the words 'What a goal!'. I didn't make it to the end of the short sentence, and had to take a deep breath before repeating myself, again at the top of my voice as his name rang out around us. I can look back now and appreciate that when people talk about breathtaking experiences, it doesn't have to be figurative.
Closure
Almost 10 years to the day since Fowler left me breathless, I watched him miss an absolute sitter of an open goal from six yards against Fulham at Craven Cottage, on his penultimate Liverpool appearance, at the same ground he opened his account as an 18-year old. But thankfully, now as a fully grown, cynical adult football supporter, I had savoured every single minute of his second coming, and was fully prepared for the second closing.
In his second spell, Fowler scored 10 goals, including his first and only two in the Champions League, and surpassed Dalglish in the scorers' list for good measure. His contribution in the final months of the 05-06 season allowed Benitez to rotate his forwards, securing third place in the league and an FA Cup win in Cardiff. After limited but always whole-hearted contributions the following season, another third place finish and a second European Cup final for the club in three years, he was given the send-off against Charlton that he missed out on in 2001, and was replaced by the phenomenal Fernando Torres that summer. Closure.
Increasingly, outside of his following, Fowler's ability and achievements will be lost in the swamp of obsession over what constitutes 'greatness', where people are more concerned with establishing the criteria of a 'great' player rather than allowing fans to follow their hearts. Don't succumb to those who were more concerned with whether London 2012 was the best Olympics of all time, but just savour those unique memories and the feelings they gave you.
Robbie Fowler may not have been the best, but he was definitely my greatest.